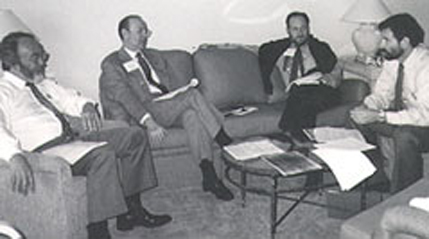 Promoting Excellence in Family Medicine Graduate Education
Program directors of Family Medicine residency programs have unique jobs with special challenges and responsibilities. By the late 1980s, residency directors across the country began to recognize that a national association was needed to provide them with a stronger voice and to help better meet their needs within the family of Family Medicine.
As a result, after several years of study and organization, the Association of Family Practice Residency Directors (AFPRD, now the Association of Family Medicine Residency Directors, or AFMRD) was officially incorporated in the state of Missouri on August 31, 1990.
Today, the AFMRD represents the nation's residency directors and serves as their official voice. Its top priority — to gain representation for program directors on the Residency Review Committee for Family Medicine (RRC-FM) — has been a resounding success, reflected in the fact that program directors hold four of the ten seats on the Committee, plus one alternate position.
Throughout the years, AFMRD has created many innovative programs and awards that have promoted excellence in Family Medicine graduate education and beyond. Chief among these have been the National Institute for Program Director Development (NIPDD), the educational preceptorships, "Frontline: Diabetes" and "Frontline: Better Bones-Osteoporosis," and the Nikitas J. Zervanos Outstanding Program Director Award.
In addition, AFMRD has worked closely with other Family Medicine organizations, such as AAFP, ABFM, NAPCRG and STFM, to provide a voice for residency directors and improve medical education and care within the specialty. As part of these cooperative efforts, AFMRD helped to sponsor the publication of the Annals of Family Medicine.
AFMRD also produces its own newsletter called Highlights and works with the Family Medicine Television Network (FMTN) to broadcast programming that allows residents and faculty to interact with leaders in their discipline.
As a proud member of the family of Family Medicine, the AFMRD continues to look to the future to help usher in the next generation of family physicians.
Programs and Initiatives
AFMRD Strategic Plan for Residency Education in Family Practice
Established by the Board of Directors, September 1995
General Objectives:
To educate a sufficient number of family physicians to meet the health care needs of the American public.
To provide an appropriate sponsor mix for the nation's family medicine residencies.
To provide the training necessary to be responsive to the health care needs of the American public.
To provide family medicine residencies with sufficient family physician and other residency faculty.
To effectively utilize family medicine residency programs to educate a variety of learners in the principles of family medicine.
Current AFMRD Initiatives:
Organizational Goals
Goals of AFMRD include:
To represent Family Medicine residency program directors at a national level and provide a political voice for them in appropriate means.
To develop the art and science of resident education in Family Medicine.
To improve the quality of education of family physicians.
To promote ethical behavior is all aspects of residency operation.
To promote communication and cooperation between Family Medicine residency programs and other members of the Family Medicine family.
To provide a network for mutual assistance among Family Medicine residency directors.
To enhance the administrative operation of Family Medicine residencies.
Action Plan for the Future of Residency Education for Family Practice
Organizational Competencies

Teams
Quality

Clinical Outcomes Assessment and Measurement
Evidence-based Medical Practice
Patient Satisfaction
Cultural Competency
Prevention Curricula

Use of Computerized Information Systems

Clinical Competencies

Scope of Practice

Time or Competency-based Residency Education
Procedures
Comprehensive Clinical Testing
The Family Practice Center

Community Competencies

Community-oriented Primary Care
Service to the Vulnerable and Underserved Populations