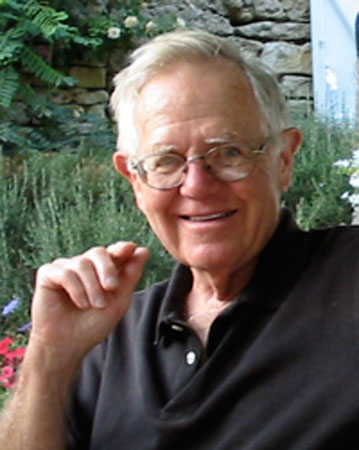 Affinity, Intimacy, Reciprocity and Continuity: The Story of Lynn Carmichael, MD
Lynn P. Carmichael, MD, was born in Louisville, Kentucky in 1928, but was raised in the small town of Mooresville, Indiana. He discovered his calling early in life, finding inspiration from his family's physician, Dr. Kenneth Comer. In a 1991 interview, Carmichael fondly recalled Comer's influence, noting:
"Some of my earliest remembrances, my first really positive feelings, were about this family doctor. He made a pet out of me and was always available whenever I had a problem. I wanted to be like this man. I wanted to be a family doctor. I knew there were specialists... But specialists were different. They weren't your doctor. To be a doctor was to be a family doctor."
This point of view epitomized who Lynn Carmichael was as a family physician. He believed that, fundamentally, family physicians did not treat illness, but treated people–a belief that he would continue to develop and promote throughout his career.
After graduating from the University of Louisville Medical School and serving in the Korean War as a battalion surgeon with the US Army, Carmichael settled in Miami, Florida, where he wanted to become a general practitioner. But he soon realized that his training and experiences had not at all prepared him for being a family physician. He then began working at nearby Kendall Hospital, which was established to aid in the treatment of underprivileged populations in Southern Dade County. Carmichael later compared the small 125-bed hospital to being back in the war zone in Korea, noting that:
"At Kendall there was no full-time staff other than house officers. There were five of us. We delivered the babies; we kept a clinic going 24 hours a day; we took care of the patients in the hospital... It was like being back in a war situation again. It was a frontline activity, and you never knew what was coming through the door."
This experience convinced him of the absolute necessity for residencies in family practice where doctors learned by doing.
By 1955, Carmichael was working in private practice as a family physician. He later recalled of this period that, "I probably did more for more people than any other time in my life." It was then that he began to realize that people did not come in alone and that the familial ties of the patients played an important part in treating them. Furthermore, he realized that patients returned to see him regularly with different types of problems, thereby underscoring the need for developing a continuing relationship with the patient. It was at this point that Dr. Carmichael had a revelation: "My patients were what I was taking care of, not their particular illnesses."
This realization led Dr. Carmichael to believe that Family Medicine should first and foremost characterize the type of relationship a doctor has with the patient. This relationship, according to Carmichael, had four critical components:
Affinity – the bond between the doctor and patient;
Intimacy – the bond leads to an openness between the two;
Reciprocity – the recurrence signifies a level of trust between them; and
Continuity – the trust creates the expectation that the relationship will continue in the future.
Lynn Carmichael died on June 19, 2009, at the age of 80, after a lifetime of giving to others. His achievements are now widely acknowledged as legendary within the specialty of Family Medicine, and with good reason. In the words of former STFM President John J. Frey, III, MD:
"...Lynn Carmichael is seen by many as the first to stake out the academic discipline of family medicine. His belief in new ways of educating doctors to do personal care in communities infected the entire country... Everyone had been touched by Lynn. He inspired, pushed, cajoled and argued colleagues into the movement. He had the necessary tenacity to make family medicine happen. He was an evangelist, a preacher, a union organizer and a prophet... He is our ancestor, yours and mine. We should thank him for what he has given us. [By] continuing to do what we do with skill and passion and joy, whether as leaders, or teachers, or researchers, or holders of old persons' hands, is the best way to honor him. It is what he would prefer. I am sure of that."
Timeline of Dr. Lynn Carmichael's Contributions to Family Medicine
1965
(January 4): Journal of the American Medical Association (JAMA) published "Teaching Family Medicine," Dr. Carmichael's seminal work on the discipline.
1965
Carmichael established the first Family Medicine residency program at the University of Miami, serving as founding chair of Family Medicine until 1996.
1966
Carmichael and Leland Blanchard, MD, were hired by Bill Ruhe to develop family practice after publication of reports by two independent AMA groups: Meeting the Challenge of Family Practice, known as the "Willard Report," and The Graduate Education of Physicians, known as the "Millis Report."
1967
(October 27): Dr. Carmichael served as one of the founding members of the Society of Teachers of Family Medicine(www.stfm.org) (STFM), which was organized at a meeting in New York City and attended by 45 educators in Family Medicine.
1968
(November 1): At the third organizational meeting in Houston, STFM's bylaws were adopted, and Dr. Carmichael was elected STFM's first (founding) President.
1972
STFM became a member of the AAMC Council of Academic Societies. Lynn Carmichael, MD, and F. Marian Bishop, PhD, MSPH, were named the first CAS representatives from the STFM.
1976
Dr. Carmichael was awarded the Thomas W. Johnson Award for Career Contributions to Family Medicine Education from the American Academy of Family Physicians.
1979
(January): STFM's official scholarly journal, Family Medicine Teacher, was established with Dr. Carmichael as founding editor.
1997
Carmichael was elected to the Institute of Medicine (IOM).
2000
Dr. Carmichael attended the Keystone III Conference, contributing the article "'Is Where We Are Where We Were Going?': A Dialogue of Two Generations" with Susan Schooley, MD, to the conference proceedings.
"Voices From Family Medicine" Oral History Interview with Dr. Carmichael
In preparation for the 25th anniversary of the founding of the Society of Teachers of Family Medicine (STFM) in 1992, Drs. John J. Frey III and William B. Ventres conducted a series of extensive oral history interviews with a variety of leaders and educators in the specialty.
The resulting interviews, titled "Voices From Family Medicine," were published as part of a multi-part anniversary series in STFM's Family Medicine journal in 1992-1993.
Below is the link to the PDF version of the article about Dr. Carmichael:
Carmichael, L.P. "Voices from family medicine: Lynn Carmichael." Interview by William B. Ventres and John J. Frey. Family Medicine 24 (January 1992):53-57.(5 page PDF)

To learn more, see our "Voices From Family Medicine" Project page.