November 15, 2019
FOR IMMEDIATE RELEASE
Contact:
Dionne Pleasant
(913) 906-6003
dpleasant@aafp.org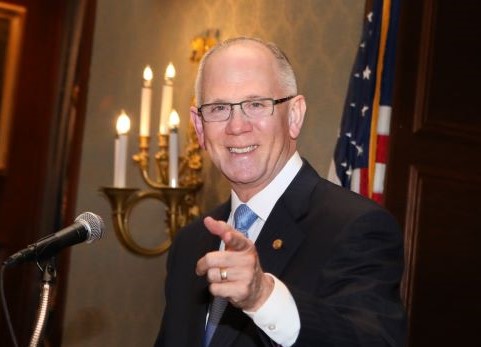 During the 2019 Congress of Delegates in Philadelphia, Penn., the American Academy of Family Physicians (AAFP) Foundation announced the establishment of an endowment in honor of Doug and Mary Henley to celebrate their service to the American Academy of Family Physicians (AAFP), the Foundation and family medicine over the last 43 years. The Douglas and Mary Henley Fund will support the Foundation's mission by building a workforce pipeline for the specialty and creating future family medicine leaders through scholarships to medical students and residents(www.aafpfoundation.org) to attend the AAFP National Conference.
"The Foundation created the endowment to honor Doug and Mary's distinguished servant leadership and their generous contributions to the AAFP Foundation," said Douglas A. Spotts, MD, FAAFP, FCPP and current Foundation Board President. "The Foundation is grateful for their commitment to the future of family medicine."
Doug Henley, MD, FAAFP, will leave his role as Executive Vice President and CEO for the AAFP on August 1, 2020, the 20th anniversary of his tenure. Doug and Mary Henley kicked off the fund with a $100,000 gift and a challenge to other family physicians to give generously.
If you would like to honor Doug and Mary Henley's contributions to family medicine at this time, please contact Tracy Ingram via email or donate online. Click here to donate(www.aafpfoundation.org) and select the "Douglas and Mary Henley Fund" for gift designation.